On Wednesday, January 19, we'll host and conduct a calligraphy workshop with our guest teacher and Ph.D. researcher Maíra Woloszyn.
The workshop is geared towards beginner and intermediate practitioners, from all fields of art and design. But it is especially focused on the type design and designers as it aims to provide specific knowledge on letter construction and expression.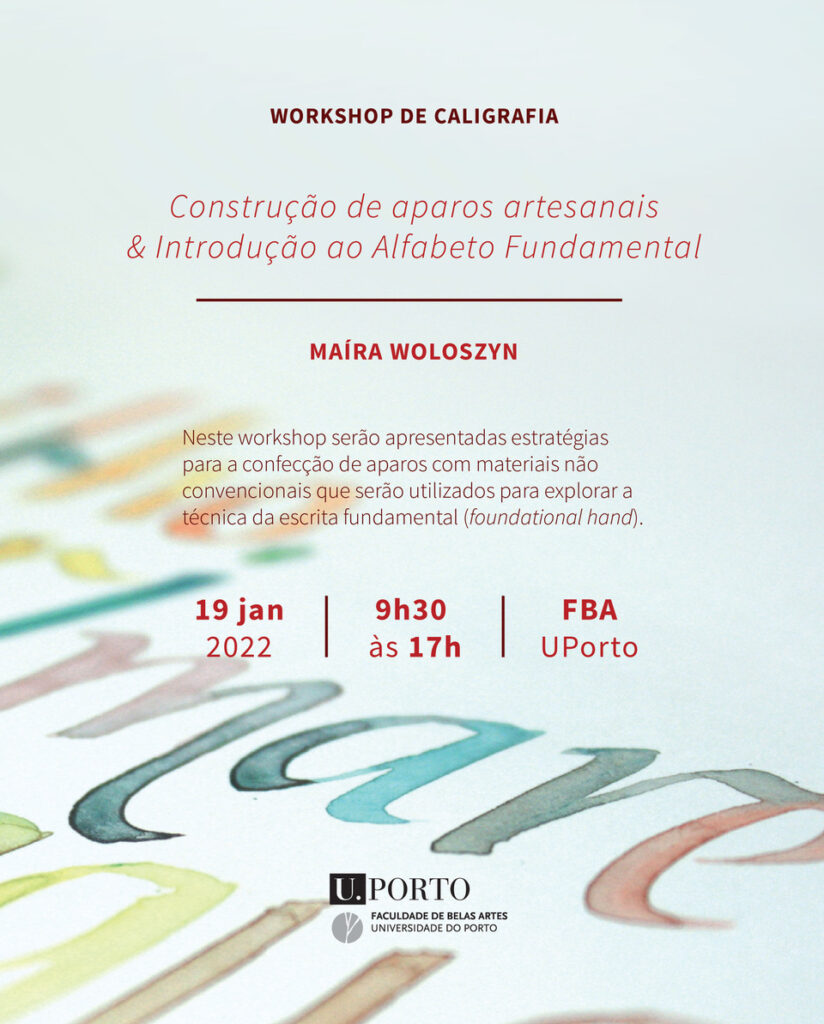 Maíra will introduce participants to the fabrication of our own custom tools, much in the sense that Bianca Benedicto has also done with her Master's project.
We will start by creating a calligraphic pen with a flat tip, which simulates pens such as the Automatic Pen and the Hiro Nibs. These are normally used for the development of classical alphabets such as humanistic, italic, gothic, and other scripts. We will also build our own cola-pens — a DIY version of folded pens. These are very popular tools used by professional calligraphers and are also available for purchase online on several well-known USA and EU online calligraphy stores.
Maíra will then proceed to explain and demonstrate the basic minuscule foundational hand with the handmade pens. The foundational hand is a very important and specific topic for Typeface Design as it helps to understand the inner structure of the letters — the ductus.
Hopefully, in the end, everyone will be encouraged to explore what they've learned into a custom-designed phrase or composition.
It is important to highlight that this is a workshop for the beginner — participants with no previous calligraphy knowledge —, and to the intermediate calligrapher alike — as it is very important as calligraphers and designers to make sure to revisit and practice our foundational hand as often as possible. Maíra´s take on this hand will also bring us a different take on the letter construction and expression for sure!
The workshop is open for registration for students and the general public alike. Make sure to register, or to just drop by during the workshop to say hello.
---
Calligraphy Workshop, with Maíra Woloszyn (@mairawoloszyn)
January 19, 09:30-17:00, PS13B, in-person workshop*

Free registration, with limited spaces, online at:
https://forms.gle/SaoY3hV3Fb7B9Gau8

In this workshop, participants will fabricate handmade nibs from alternative materials and be introduced to the principles of essential calligraphic drawing. Using the crafted nibs —folded pens—, together with the study of provided examples, we will explore the structure and expression of the lower case letters of the fundamental alphabet —foundational hand—, applying the acquired knowledge to design and create a set of final calligraphic compositions in different formats.

—
Maíra Woloszyn is a graphic designer and currently a Ph.D. student in Design at the Federal University of Santa Catarina (UFSC) and the University of Porto (UP). Her research topic is related to the variable font design process and the scope of typography in digital media. He is interested in typography, calligraphy, lettering, and editorial and digital design. She is also part of research groups focusing on design, typography, and digital publishing.

—
Basic material required
HB pencils, or another tool for the nib handle (e.g. chopsticks); Soda can (empty and clean); 120g/m2 A3 plain white paper; Ink (ecoline, or sumi) and a container for water; Cloth or rag for cleaning

—
Organization FBAUP/i2ADS, MDGPE/LDC

—

Dates and conditions of the activity are subject to change according to the directives of the direction of FBAUP/Rectory of UP, in accordance with the indications of the Government and DGS for teaching activities.